Located conveniently at 3101 Ward Boulevard, in Wilson, North Carolina, our facility offers easy access to a spacious showroom, sales counter and ample parking. We have recently expanded our facilities to accommodate our growing business and production needs, as well as more space for customer service.
Customer service representatives are available to assist you with your general printing and sign requirements. We also provide self-service copiers, paper by the sheet and work tables for those quick and special jobs that you may want to work on by yourself.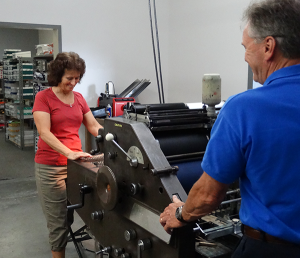 Our prepress staff is available to help design and layout your job.  They will take your ideas and create a proof for your review, or use a file you have already created.  We will maintain excellent quality control as we follow your project through the entire production process to ensure the final product is exact to your specifications.
We have such an extensive selection of wedding invitations that there is a choice for almost everyone.  A comfortable customer area is available for working on your wedding accessories, selecting party invitations or finding that "just right" announcement. You'll receive special help from our staff, or we'll just let you shop on your own in our spacious showroom.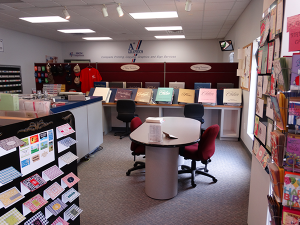 We have recently enlarged our "Stationery Store" so that we can offer you a greater selection.  We have always had a good selection of Fine Stationery, Notecards, Invitations, and Announcements which could be either printed in-house or selected from one of our albums. We have now added a large inventory of imprintable items, invitations and notecards so you can select from pre-printed solutions.  I think you will find that we have the largest selection of wedding invitations in Wilson.
There is a private area available for your use if you need an out-of-the-way place to concentrate when preparing that special project or party.  In addition to our showroom, on-line capabilities allow you the ability to shop at our website location from the convenience of your own home.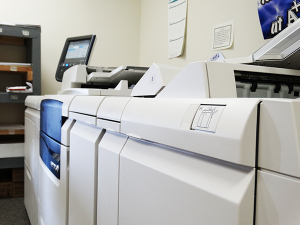 For the business customer, our offset presses  and digital printing capabilities afford us the opportunity to accommodate both Quick Print applications, On-Demand Publishing jobs and business printing requirements.  This is where we began our business and continues to receive special attention on quality and service issues as we add to our customer base.  Because of our size and capabilities with both digital and offset presses, we have the flexibility to run jobs requiring a quick turn-around for longer business printing applications.  All of our digital presses are networked so we can duplicate your job as a first generation copy directly from our server's hard drive for a better, first generation, quality product.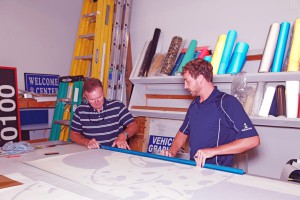 Our expanded sign shop enables us to better create and manufacture your sign or specialty item. Sit with our staff to develop your idea or just let our designers be creative in designing your project.  Either way, we'll help you produce an image that will best get your message through to the public.  We are capable of delivering virtually all of your sign needs, whether it's just vinyl lettering, a small personal sign, a simple banner, metal and plastic letters, or lighted signs and large commercial applications.  We have created everything from a small ID badge to the installation of signs and metal letters on retail and commercial facilities, as well as on large industrial structures.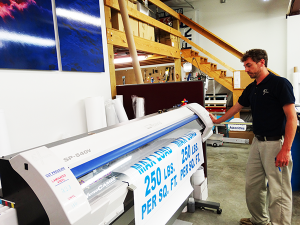 With the addition of large format digital printing, we can produce an excellent quality, high resolution, full color graphic or photo, 54″ wide by any length on a variety of substrates and applications.
In addition to traditional signage we also offer large-scale outdoor digital displays. Digital displays are a perfect solution for schools, churches, shopping centers, and virtually any business application needing to make an impact at the click of a button.